Here I proudly show you my ninth most wonderful book with the introduction that is within it's first pages...
The Glory Unfolds
It began with a man nailed to a cross
Making some people feel a terrible loss
People who remembered all that he did
Helping others as he lived
The things they saw, they then told
To be put in a Bible for all to hold
And as all read they too did pray
That love like His would always stay
Love like the Doves that we see fly
Free and peaceful up in the sky
The Heavens above that day or night
Is always there to bring us light!

So the man they nailed achieved all His goals
In showing us how… 'The Glory Unfolds'

*I was inspired to design of the cover picture and to write this introduction in book after reading through Christina's wonderful words…A.P.F.Publisher / Pat Simpson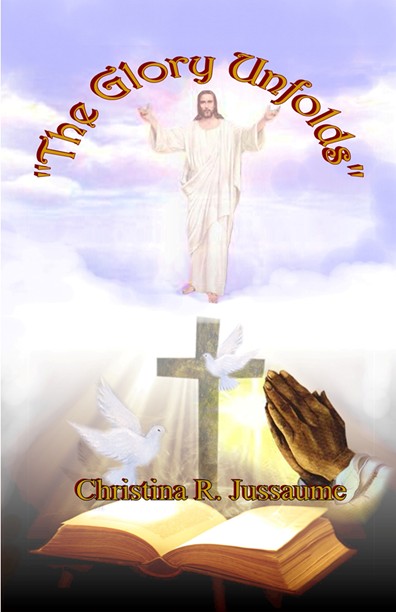 ISBN: 978-1-291-04780-6
To get E: Book Format Click Here
Within this collection you will find I have used approximately 130 forms of poetry. All of this I have listed in a full Poetic Glossary in the back of the book for handy reference for any Poet. In this collection I have introduced two more of my own creative formats, "Alliteration Jingle" and "Aquarius 69." Both displayed here on this page...
There are also old styles that have been around for decades and newly created forms by Poets that are friends of mine.
This collection has poems with Bible verses, poems about God, love and nature. All of my poetry is spiritually uplifting. The theme in this book is about "God's Glory". There are many poems about gardens, mountains, the sea and His creation. All of my writing I dedicate to the Lord for it is He that continually inspires me to continue with my writing pursuit.
God's Glory Unfolds
(Aquarius "69")
Sunrise is the prettiest thing seen
Master's glory brings us sunrise and great peace
Wake now hearing bird's song
Day starts like eating finest cuisine
Each day is a new beginning
Accept Him and you're then winning
Sunset is romantic to us all
It brings us a warm feeling like a sheep's fleece
It is Master's artwork
Mountain beauty to all does enthrall
Each day is a new beginning
Accept Him and you're then winning
Twinkling stars at night bring historic story
V formation flown by Canadian geese
Artwork appreciate
Be aware of surroundings glory
Each day is a new beginning
Accept Him and you're winning
********************
Buy this or any of my other books here from my own store
Click or copy and paste this link
http://www.lulu.com/spotlight/crj147
Click Link Below To Buy from Amazon
http://www.amazon.com/Glory-Unfolds-Christina-R-Jussaume/dp/1291047808/ref=sr_1_1_title_0_main?s=books&ie=UTF8&qid=1353887120&sr=1-1&keywords=The+Glory+Unfolds